Welcome to Rescue Road Trips
We are a non-profit that provides low-cost transport service for Rescue Dogs in the Deep South and an Ohio based rescue. We provide loving, humane road trips for homeless, unwanted, unloved dogs, facing assured-immediate death from Southern Kill Shelters. We help move them to Loving "Forever Homes" and a second chance at life in New England and surrounding areas.
"Welcome two new furry family members Apollo and Artemis!! Two poodles that were dumped on the side of the road in Louisiana now have a chance to live a fulfilled life in a home where people love them. Thank you Rescue Road Trips and Greg for bringing them to us. We are in love."
Meet Molly
Molly is a 4 yr old lab mix and she weighs 74 pounds. She is a delightful companion who thoroughly enjoys human friendship. She is calm, well mannered, quiet and obedient but above all very affectionate. Molly currently lives in a foster home with multiple dogs, cats and farm animals. She is crate trained and housebroken. She does not live with children but she is gentle and sweet when she meets them at the park. Molly is the perfect companion for a casual leash walk or a lengthy trail hike. She is a great car rider, no matter the distance. Molly loves the comfort of a cushy pillow but she will gladly trade it for an endless game of fetch or a swim in  which she both excels. Playful too!
Do you feel a connection with Molly? She certainly would like to put her paw on YOUR heart forever! If you are interested in being considered to become Molly's forever family please complete an adoption application at here.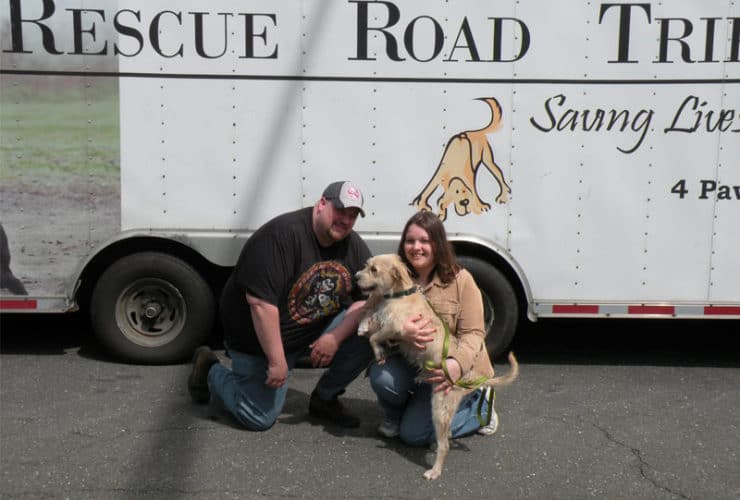 Belinda & Otis
I never fully understood the complex world of rescue until I adopted Otis from Shaggy Dog Rescue.  We went four years after losing our dog before I started poking
Read More