Welcome to Rescue Road Trips
We are a non-profit that provides low-cost transport service for Rescue Dogs in the Deep South and an Ohio based rescue. We provide loving, humane road trips for homeless, unwanted, unloved dogs, facing assured-immediate death from Southern Kill Shelters. We help move them to Loving "Forever Homes" and a second chance at life in New England and surrounding areas.
"Welcome two new furry family members Apollo and Artemis!! Two poodles that were dumped on the side of the road in Louisiana now have a chance to live a fulfilled life in a home where people love them. Thank you Rescue Road Trips and Greg for bringing them to us. We are in love."
Meet Maddelyn Rose(Maddie)
I'm the happy, loving girl you will forever want to rush home to every night. Hi, my name is Maddie! I am a 1.7 year old (approx) spayed, Labrador Retriever, Staffordshire Terrier mix who is eager to please and always happy to play. My microchip can be easily changed to your address! All my vaccinations are up to date, too. I am a sweet girl who will quickly give kisses and let you rub my belly. At around 55 pounds, I enjoy my high protein diet and am very gentle when taking treats. My favorite is playing with squeaky toys and am content to even spend alone time appreciating them. My second most favorite hobby is going on car rides, I love 'bye-byes'! I am potty trained and even learned how to use the special doggy bell to notify my humans when I need to go out. I can sit without verbal cues and am doing a great job learning new commands such a 'lay down'. My humans are unaware of my full history but I was in a shelter for one month and have really come out of my shell since then. Rescue Road Trips helped me get better by taking care of my grade 2 luxating patella surgery in mid December. I am getting stronger and learning how to properly socialize with my foster brothers more and more everyday. I also do well with my older human siblings and love them very much. I do well on a leash and have shown vast improvement since the shelter. I can give you lots of love and cuddles but also am happy to give us both our space. I have the prettiest face and sweetest eyes that would want nothing more than to show you loving gratitude forever! If you are interested in being considered to become Maddie's forever family please complete and adoption application at here.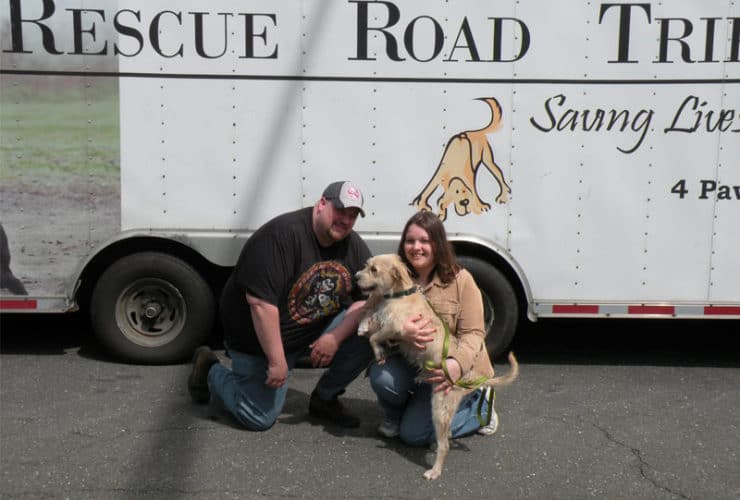 Belinda & Otis
I never fully understood the complex world of rescue until I adopted Otis from Shaggy Dog Rescue.  We went four years after losing our dog before I started poking
Read More