Welcome to Rescue Road Trips
We are a non-profit that provides low-cost transport service for Rescue Dogs in the Deep South and an Ohio based rescue. We provide loving, humane road trips for homeless, unwanted, unloved dogs, facing assured-immediate death from Southern Kill Shelters. We help move them to Loving "Forever Homes" and a second chance at life in New England and surrounding areas.
"Welcome two new furry family members Apollo and Artemis!! Two poodles that were dumped on the side of the road in Louisiana now have a chance to live a fulfilled life in a home where people love them. Thank you Rescue Road Trips and Greg for bringing them to us. We are in love."
Meet Sundance!
This little boy looks like a corgi/chihuahua mix and he is just the sweetest dog! He had been hit by a car and his back leg was badly fractured, the orthopedic surgeon put in a rod, placed on a plate and some wires and it healed beautifully. His other leg was damaged but the surgeon felt it did not need any surgery as he seems to get around on it very well. He is approximately 3 yrs and 18 lbs. Sundance loves to lay in the sun, he loves toys and gets along well with his rescue buddies. He is your shadow and will follow you everywhere. He would probably do well with a buddy to keep him company. Sundance likes to lay on his favorite dog bed and chill out next to you. He has a great disposition , but is master of running through a door as he wants to be wherever you are. He loves riding in the car and likes to look out of the window to see where he is going. Sundance is just overall a great little dog!
If you are interesting in learning more about Sundance or think Sundance would be the perfect new addition to you family complete the adoption application.
Meet Lancaster!
This sweet little terrier mix is approximately 6 years old and 26 lbs. He was found wandering the streets in pretty poor condition. He is a quiet little boy and just likes to hang out on his doggie bed. He gets along with all of the other dogs but does not like them near his treats and will get a little snippy if they get too close but does great with people. He wanders into the yard with the other dogs, but does not play with them. Lancaster likes to play on his own and loves his toys. He likes to run and chase the squirrels and birds in the yard. His skin was in horrible condition when he was rescued and he still has a few lesions on his ears and legs that are taking a little longer to heal but his coat has come back really well. He loves to get petted and will run up to people for attention and likes to hang out at your feet. He seems pretty well house and leash trained. Lancaster is going to make a great companion for someone.
If you are interested in learning more about Lancaster and think you could be is happily ever after please fill out the adoption application.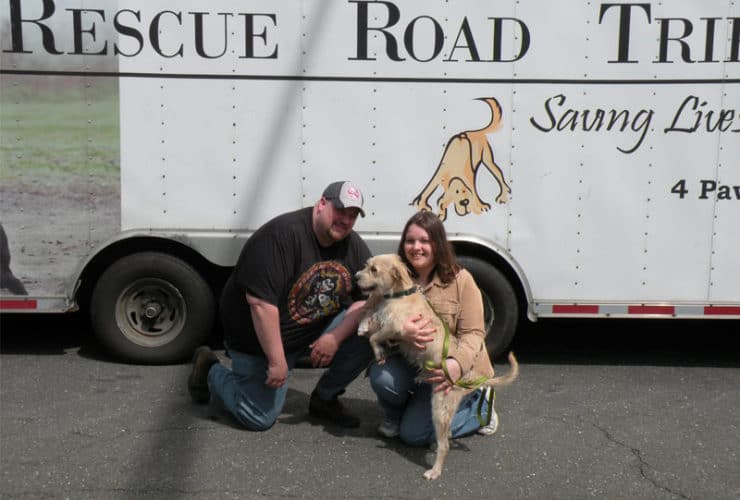 Belinda & Otis
I never fully understood the complex world of rescue until I adopted Otis from Shaggy Dog Rescue.  We went four years after losing our dog before I started poking
Read More