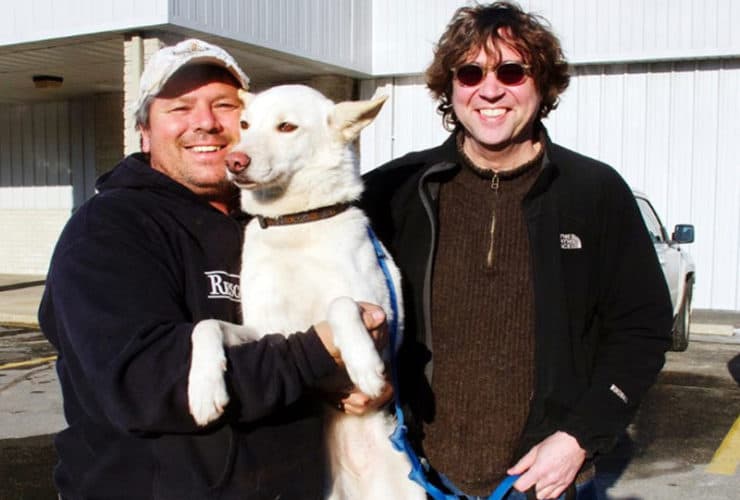 Bennie
My boyfriend Tom and I found our Bennie (fka Barbie) on Petfinder via mutts4rescue in February of 2014, a month after we had to say goodbye to our first dog of 16 years. Bennie was the third application we put in and as they say, third time's a charm (the other two dogs were already in-process for adoption).  I spoke with her rescue coordinator in Louisiana the amazing (as you know) Keri Toth, who put me in touch with her sister Heather who was fostering Bennie.  In her sweet, loving southern voice Heather told me that Bennie was "just a really good girl" and I was all-in just with that.  We don't know much about her early life but she was abandoned, tied up on large property and found by the owner, but was healthy and friendly and had obviously been well cared for by someone who couldn't keep her any longer.
We then got a voicemail from Greg confirming her transport, which I still have saved because you two are like celebrities to us!  From when she left Louisiana we watched her progress and celebrated her walk pictures with the angels (thank you!!!) along the way, and then…  Putnam CT gotcha day March 8th, 2014 which Tom describes as "Mardi Gras meets Christmas."  Bennie's papers said she might be a white german shepherd but that was crossed-out and husky written in instead.  I guess she must have let out one of her signature husky roos  ; )
Bennie eased right in and made friends with every dog and human in our neighborhood, and is just the perfect rescue ambassador.  She even welcomed a #2 this past spring, a rescue from Puerto Rico we found at a local shelter, they were best friends from the moment we brought him home.
Thank you for the incredible work you both do to give all of these sweet dogs a second chance, we are forever grateful and indebted to you.  Bennie really is, as heather said, just a really good girl and we are so lucky she is part of our pack!
and now the TMI because I can't help myself:
we had bennie's DNA test done and it turns out she is roughly 3/4 husky and 1/4 hungarian vizsla.  our first dog was a husky born in hungary where i used to live, we thought that coincidence was pretty freaky!
our neighbors across the street also got their dog sally from keri toth over ten years ago.
my cousin chris and wife katelyn met you & greg on a flight to columbus from boston after your book tour, they are from columbus and are huge RRT fans!  then sent us a pic of you four together and we were so tickled.
we donated a stencil for the truck with bennie's name and gotcha date on it  : )
my co-worker marena's close friend peter wrote the rescue road book (that we LOVED reading) and his wife judy was doing the fundraising for the new truck, such a small world!
whatever we can do to help, please keep us posted!  
much love,
bennie (and tanya, tom and tito)