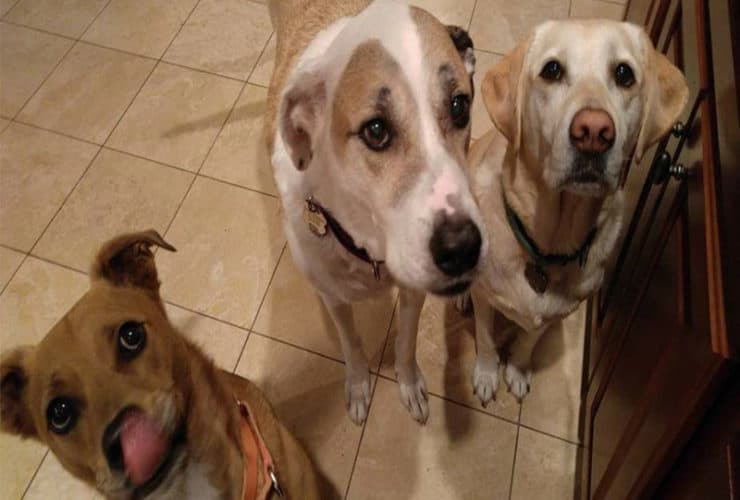 Halbfoerster
My husband Mike and I began volunteering with the Allentown Angels in March 2014.  At the time we were heartbroken over the unexpected death of our Rottie / Shephard mix, Riley.  Our beloved lab, Moxie was also devastated and missing her brother.  Two Sundays after Riley's passing we were reading the paper and came across the article about Rescue Road Trips in Parade magazine.   We saw that there was a stop in Allentown every other Friday and thought how we would love to volunteer our time as a tribute to our Riley.  We were so grateful to be accepted and welcomed by such a great group.  
Two months into volunteering, Mike met Ray. Ray is a Boxer Pincher mix from Jackson County Animal Shelter, Mississippi. Instantly, Mike fell in love. I feel it was a sign when Mike had to retrieve something from the back of our SUV and as soon as the tailgate opened, Ray jumped in!  "Let's go dude!"  Over the next two days, Mike could not stop talking about Ray. I spent hours on line that following Sunday searching for Ray.  When I finally located him, I learned he was being fostered in Connecticut for Double Dog Rescue. (pix #1) I immediately called, was told to fill out an application, two days later had a phone interview and the next day approved for adoption. Mike and I took the three-hour road trip, one way to retrieve little Ray. (pix #2)
We have always been a two-dog household and never imagined having a third dog. Until we then met Crosby in 2016. Crosby is a Shephard mix and this time I was the one walking him and fell in love. He is an older gentleman and was very frail at the time.  He was on his way to Connecticut from Hub City Animal Shelter, Mississippi. My heart melted. When it was time for Crosby to board the truck, as Greg was walking him back to his crate, Crosby kept looking back for me. Not knowing where Crosby was headed I began doing research to see what I could find out. I learned he was approximately 11 years old and heading to a foster with Dog Star Rescue. (pix #3) I immediately thought, I must adopt him and give him the best of care in his twilight years. Again, we began filling out an application, had a phone interview and within a week and another three-hour road trip, we brought Crosby home. (pix #4)
Our house has gone to the dogs and we wouldn't want it any other way. We are no longer a two-dog household, we are three. (pix #5) They get along splendidly.  We still think of our Riley every other Friday when we look into the hopeful eyes of all the rescues aboard the Rescue Road Trips freight.  We often pray that they find the same loving homes as our brood has found in my husband and I.
Allentown Angels, Mike and Jen Halbfoerster