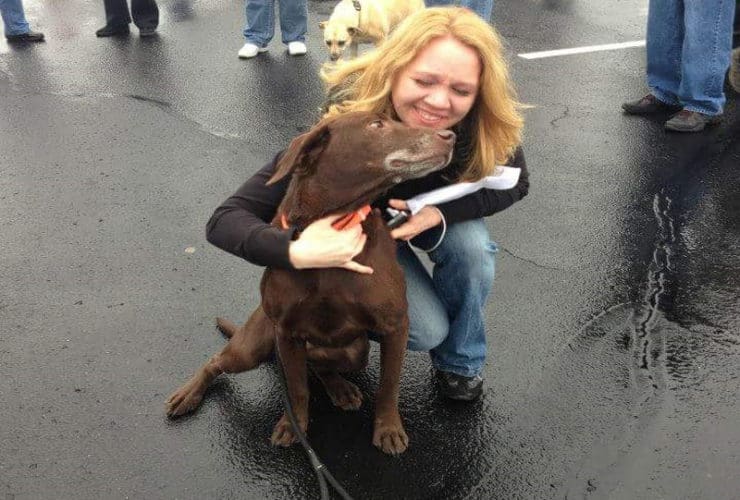 Patty & Elmo
On January 12, 2013, I arrived in Rocky Hill, CT to pick up the newest addition to our family, Elmo.  After talking to a few people I learned that there were volunteers waiting to walk dogs and give them some love before continuing on their journey home. It was heartwarming to experience this. I was a little concerned about how the ride would be on a dog over 9 years old, but I was also so excited that I was first in line. Greg asked me who I was picking up and when I said, "Elmo", he said, "Elmo is a handful, but he's a love!"  Well, Elmo is a handful and he is a love.  That just shows how Greg gets to know the dogs catching a ride home with him. Elmo jumped of transport and leaned right into me like he knew I was his human.  I credit him being so happy when he jumped off transport to the great care he received on his ride home from Greg and the volunteers along the way, so I started volunteering with RRT a month later.  Through five years of volunteering I have met so many wonderful adopters, fosters, rescuers and volunteers, many of which I now call friends.  I started fostering for a couple different rescues about 4 years ago and even fostered sweet Rosie for you (I have picked up a lot of fosters from RRT). Our family has grown from two dogs to six through all of my volunteering.  I look forward to each Gotcha Day like it's my first ever.
I'm sure you will get a lot of similar stories and I could write so much more, but I'm trying to be somewhat brief about how it all started for me and why I continue to volunteer. Here's me and Elmo right after he bounded off transport.
Thank you to Adella and Greg for all you do!
Patty & Elmo